Tu B'shvat takes place on the 15th of the month of Shevat. (February 5, 2023), A minor Jewish holiday, it is often referred to as the "new year" or "birthday" of the trees. Its customs are simplistic, however, it's meaning can be quite monumental.
We are Jewish, therefore we eat!
On Tu B'shvat it is customary to eat at least 15 varieties of fruits and vegetables. It is important to include the seven species mentioned in the Torah: wheat, barley, grapes, figs, pomegranates, olives, and dates. These foods symbolize God's creation, and by eating them, we give thanks to Ashem and reaffirm our ties to the Land of Israel. Scroll down for some fun food ideas.
Grow Like the Trees
Trees produce the oxygen we breathe. They give us life. We can also give life by teaching others, inspiring each other and choosing to be kind.
New trees are fragile, but they stand towards the sky and they will grow. The higher we aim, the more motivated we will be to reach for greatness.
It is never too late to plant a new seed and begin something new. Every seed we plant counts and is a gift to the next generation. Never stop growing.
Even the most beautiful trees shed their dead leaves so they can bloom again. Shed what is holding you back so you can grow into a better version of yourself.
Remember that every tree begins as a seed placed in the ground, planted and covered in dirt. When we are planted, we grow. No matter how much dirt comes into our lives, let's resolve to see it as an opportunity to grow into the best people that we can possibly be.
Get creative with your Tu B'shvat meal
Edible Planters
These edible planters by Jamie Geller (@JamieGeller) will have your Tu B'shvat seder guests wowed! Follow us on Instagram @maotchitim to get full recipe for these festive edible planters.
Liven up your oatmeal by adding, nuts, figs, pomegranate seeds, cherries etc for a delicious Tu B'shvat breakfast.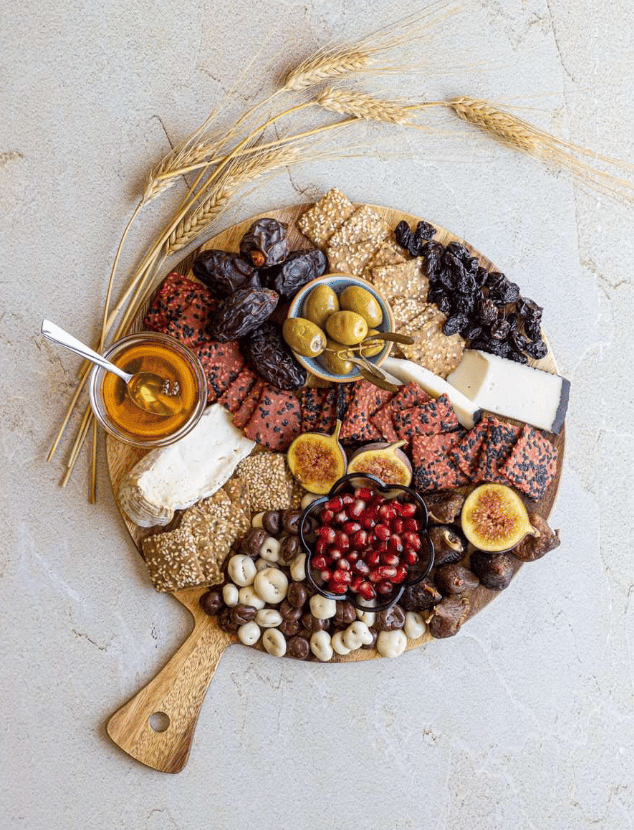 Charcuteries are all the rage! Looking for an excuse to make a beautiful charcuterie board? No better time than Tu B'shvat! Dried fruits, nuts, cashew vegan cheeses, olives, wheat and barley crackers, pomegranates, figs and grapes will make a beautiful display. Get your whole family involved and see how creative you can be.
Looking for fun ways to celebrate with kids? PJ's Library has loads of ideas.
Have fun with this holiday. Celebrate the Earths bounty. Learn something new. Grow some plants and your spirit.
Please Give Back
On Tu B'shvat it is customary to donate money to plant trees in Israel.  Along with this tradition, we kindly ask you to help grow and renew the spirit of those in need by donating to help bring food for those unable to afford to do so. Thank you for your generosity. You can donate by clicking here