To some it may just look like bag with a challah, a small jar of honey and a calendar, but to the hundreds of Holocaust Survivors who received this heartfelt gift, it was a symbol of love that showed we cared and they have not been forgotten. At the same time providing a meaningful volunteer opportunity for many.
A Meaningful Volunteer Opportunity
On Sunday, September 13th, with the help of many dedicated volunteers, we delivered a special gift bag for Rosh Hashanah to over 2000 Holocaust Survivors. This complemented the Jewel gift cards we sent to our recipients in need earlier in the week.
To us, this meant providing a "no contact" meaningful volunteer experience for some of our loyal volunteers who we have missed during this difficult time.
Much more than challah and honey
A tangible gift meant the world to them. It wasn't necessarily the challah, the honey or the calendar, that held the special meaning, but the idea that someone took the time to put it all together and personally deliver this gift to our survivors.
Our volunteers were gloved and masked and were told to knock, hang the package on the door and leave, making the contactless delivery safer for our elderly population. However, there was the occasional person who opened the door and got to personally thank them with tears in their eyes and their hearts overflowing with gratitude.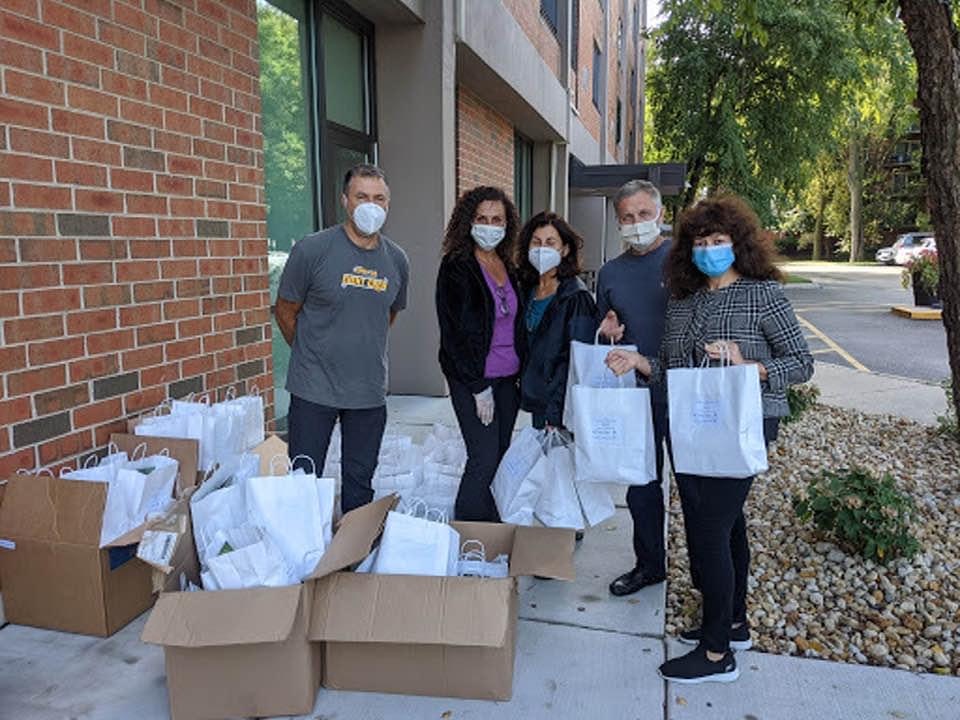 When we came back to the office, we were overwhelmed with phone messages from recipients and volunteers equally thanking us for such a wonderful gift.
"I need to share with you what a meaningful experience I had yesterday delivering for Maot Chitim This memory will stay with me forever. I'm so glad to be a small part of this phenominal organization. Shanah Tovah."
"The greatest impact on the kids was when after they met a survivor-they were told in the elevator by the building manager that she was a 104 years old & still going!
What an experience! L'Shana Tovah"

"It was like sunshine and love coming to my heart."
It takes a Community
Of course, none of this would be possible with out your generous donations over the years. We are asking for you to dig deep in your hearts and yes, pockets to help us help others. During this time of COVID, when we are all affected by the quarantines and isolation, any donation, large and small, will help warm the hearts of thousands of Jewish people in need of food and love. It takes a community and we are so happy to have you be part of ours. Donations can be accepted via our website, by mail to: Maot Chitim of Greater Chicago, 3710 Commercial Ave., Suite 7, Northbrook, IL 60062 or by calling our office, 847-674-3224
Please follow us on social media to stay informed of the next meaningful volunteer experience.
Germany to give $662 million in coronavirus aid to Holocaust survivors
In the News
Germany to give $662 million in coronavirus aid to Holocaust survivors. To read more click here